How does PayPal work – A beginner's ultimate guide
In today's digital age, online payment platforms have become a necessity for individuals and businesses alike. Among the countless options available, PayPal stands out as one of the most popular and trusted platforms around the world. If you're a beginner looking to understand the intricacies of this payment giant, you've come to the right place.
In this ultimate beginner's guide, we will delve into the various features and processes that make it an indispensable tool in the online payment world. From setting up an account to understanding buyer and seller protection, we will equip you with the knowledge needed to use PayPal with confidence and ease. So buckle up and get ready to explore the world of PayPal digital wallet! 
Paypal is an online payment service that allows users to make money transfers and payments over the internet. It provides a convenient and secure way to shop online, send money to friends and family, and make payments without using your debit card or credit card. You can link your bank account, debit card, or credit card to your Paypal account and use it as a payment method at various online stores and platforms. Additionally, PayPal also offers a feature called PayPal Credit, which allows users to make online purchases and pay later. This means that you can buy now and pay over time, helping you manage your expenses effectively.
Key features include:
Sending and receiving money from friends and family
Making purchases on websites that accept PayPal
Receiving payments for goods/services as a business
Transferring money between various countries
PayPal lets you safely pay or get paid online without sharing financial details. It serves as a convenient payment option for online shopping and transferring money.
The company's network currently includes over 277 million users. As the company has grown, so have the services it can offer to everyone around the globe. Here are the ones you can use as an individual customer:
Fast money transfer – You have the option of sending money from your account instantly or instruct the company to take the money from your bank account within a few days. You can send money internationally as well, and it shows up in the recipient's PayPal account within a few minutes.
Buy online faster – You can buy from any online stores that partner with it without having to enter in all of your banking and billing information.
In-store payments – Even though Covid-19 caused problems with shopping in stores, many are re-opening. Now more than ever, contactless payments are becoming more convenient, and it offers businesses ways to collect from customers by scanning QR codes on the PayPal app.
Opening an account and using it to transfer money to and from friends is completely free. It is the same as sending money back to your bank account. It is also free for you to purchase online using your PayPal account.
However, there are fees for certain types of transactions, which we'll summarize below:
Instant transfer to your bank – 1.5% of the amount
Receiving money from abroad – 4% of the amount received
PayPal Credit, or sending money to friends with a credit or debit card – 2.9% of the amount plus $0.30.
Receiving payments from customers as a seller – varies, but usually between 1.90% and 3.49% plus other fees.
Sending money to an international account – $0.99 to $4.99
Business accounts have slightly higher fees, like a 2.9% + $0.30 fee to receive payments from buyers. Additional charges may apply for invoicing, selling in foreign currencies, or other business services.
Upgrading to a business account unlocks volume discounts, potentially lowering transaction fees to 1.5% or less based on monthly sales volume.
How to make a PayPal account?
Opening a PayPal account is free and easy to set up. You can create an account from the website or the mobile app, and the process is relatively simple.
From the mobile app or website, click "Sign up."
Pick "Personal Account"
Provide your mobile number
Provide your name, email, address, and banking information
Create a password, verify your email using the confirmation code.
That's it!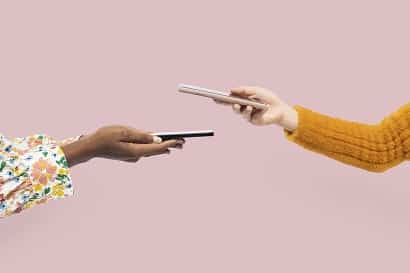 Once you create a paypal account, you can customize your profile, set preferred currency, add a profile photo, and take other steps to personalize your experience.
Upgrading to a business account unlocks additional features tailored for selling online, such as customized checkout and invoicing capabilities.
Linking your bank account to PayPal
Connecting your bank account to your account streamlines the process of funding payments and facilitating the transfer of funds.
Here is the steps:
Sign into your paypal account
Click the icon for Wallet > Link a bank account
Enter your routing and account numbers
Confirm your identity
It takes 2-3 days to fully link the account. There will be two small deposits into your bank account which you need to confirm ownership. By doing this, you can avoid fees for paying with a credit card. You can easily move money from your bank to fund PayPal payments or purchases.
How to send and receive money?
As a seller, service provider, or freelancer, the payment giant makes it easy to get paid securely online.
You can add PayPal button to invoices, your website, or anywhere else you need to collect payments. Customers can conveniently check out or send payments via the payment button.
To view received payments, log in to your account and click on the "Transactions" tab. You'll see pending and completed incoming payments.
Received funds can be held in your PayPal balance or instantly transferred to your linked bank account.
If you want to send money, this is how you can use paypal:
Log into your account
Click "Send" or "Send Money"
Enter the recipient's email address and payment amount
Select funding source – PayPal balance, card or bank account
Click "Send Money Now" to complete the transfer
You can include a note if desired. The recipient will get an email notification to claim the funds.
For international payments, it conveniently handles currency conversions and recipients can receive funds in their local currency.
PayPal offers protection programs to shield both buyers and sellers from fraudulent transactions. You can continue to access the money in your paypal account, buy things, and transfer to and from friends without having to pass your sensitive information to every website you visit.
As a buyer, PayPal Purchase Protection refunds the full amount if you don't receive your item or it arrives significantly different than described.
For sellers, PayPal Seller Protection covers sales where the buyer claims unauthorized payments or disputes a transaction.
The company uses end-to-end encryption technology and fraud monitoring to keep accounts secure. Enable two-factor authentication for added account security against unauthorized logins.
In summary, the company makes online payments simple and secure. From setting up your account to safely sending and receiving money online, it's digital wallet protects your financial information. Features like purchase protection and multi-factor authentication give PayPal the trust and safety consumers expect from a financial platform. With low fees and a convenient mobile app, it's easy to see why the company has become so popular for personal and business transactions. Our Accounting firm accepts it as a method of payment, contact us if you need more information.