The complete beginner's guide to using PayPal.
PayPal is one of those companies that weathered the storm of the dot-com bubble in the early 2000s. It rose quickly, becoming ubiquitous with eBay, and has become one of the largest payment service companies in the world.
Although there is a whole part of the company devoted to small and large businesses, in this article, we will focus on the services offered to you, an individual who only wants to pay back the friend who bought them coffee this morning.
What is PayPal?
PayPal is many things to many people. For the average consumer, it is a money service and money transfer company.
One of the benefits of this digital payment is that you can use your money to buy things online and transfer money to friends without sharing any personal banking information.
How can I use PayPal?
PayPal's network currently includes over 277 million users. As the company has grown, so have the services it can offer to everyone around the globe. Here are the ones you can use as an individual customer:
Fast money transfer – You have the option of sending money from your account instantly or instruct the company to take the money from your bank account within a few days. You can send money internationally as well, and it shows up in the recipient's PayPal account within a few minutes.
Buy online faster – You can buy from any online stores that partner with PayPal without having to enter in all of your banking and billing information.
In-store payments – Even though Covid-19 caused problems with shopping in stores, many are re-opening. Now more than ever, contactless payments are becoming more convenient, and it offers businesses ways to collect from customers by scanning QR codes on the PayPal mobile app.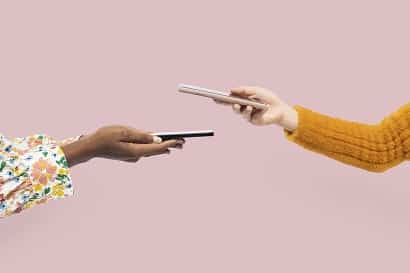 How much does PayPal cost?
Opening an account and using it to transfer money to and from friends is completely free. It is the same as sending money back to your bank account. It is also free for you to buy something online using your PayPal account.
However, there are fees for certain types of transactions, which we'll summarize below:
Instant transfer to your bank – 1.5% of the amount
Receiving money from abroad – 4% of the amount received
PayPal Credit, or sending money to friends with a credit or debit card – 2.9% of the amount plus $0.30.
Receiving payments from customers as a seller – varies, but usually between 1.90% and 3.49% plus other fees.
Sending money to an international account – $0.99 to $4.99
How to set up a PayPal account?
You can set up an account from the website or the mobile app, and the process is relatively simple.
From the mobile app or website, click "Sign up."
Pick "Personal Account" (unless you're opening a business account, which is a whole other thing)
Provide your mobile number
Provide your name, address, and banking information
That's it!
Is PayPal safe?
The whole idea came about when paying for things online started rising into the stratosphere, and there was some uncertainty about the safety of entering your billing and banking information every time you wanted to buy something.
The value of PayPal is that you can continue to access your money, buy things, and transfer to and from friends without having to pass your sensitive information to every website you visit.
It also offers purchase protection as many credit cards do and has some of the best digital security specialists in the world, making sure their platform continues to be as safe as possible.
Final Thoughts
Although PayPal is a huge company, it offers many services for free that you might not have known. While it came about during a time of insecurity concerning paying for things online, it has become a safe option for anyone to transfer money or pay for purchases they make. Our Accounting firm accepts it as a method of payment, contact us if you need more information.