What is Zelle and how does it work?
For most of the 20th century, one of the most reliable ways to send money across the country or even oceans was to use something like Western Union. To give you an idea, they used telegraphs to keep track of money movements. We've come quite a long way since then.
Now, Zelle is quickly becoming a favorite method of moving money around or even just paying people back for little things like a cup of coffee. Let's explain why.
Zelle is a service that allows you to send money to and receive money from friends. Generally, the recipient and sender only need to have a U.S.-based bank account, though there are a few exceptions which we'll explain later.
That is a simple description, but there is more to it than that.
Other peer-to-peer money transfer services like Venmo have a road bump in the process. You usually have to transfer between accounts held on the service's platform. Then, withdrawing the funds back to your bank account can take some time.
With Zelle, money received is deposited directly into your bank account within minutes. Money sent is deducted from the other account at the same time. It provides perhaps the fastest method of transferring money across the country.
It is a digital payments network owned distantly by some of the top banks in the U.S., such as Bank of America, BB&T, Capital One, JPMorgan Chase, PNC Bank, U.S. Bank, and Wells Fargo.
How to use Zelle from start to finish
Here's a quick guide of the steps to take to send money.  
Triple check the mobile number of the person you're sending to and that the person uses it at their bank.
Navigate to your bank app and find the "send money with Zelle" button.
Click it and pick the "send" option.
If you don't already have the intended recipient, click "add a recipient."
To add a recipient, you'll need either an email address or a U.S. mobile number as well as the person's name. Enter those details and click done.
Click on your friend's name, and confirm if you see a window asking: "are you sure?"
Enter the amount and click review.
Check the information, enter a memo (if it's an option), and click "send."
You did it!
To receive money, use steps 1 and 2 above but pick the request option. The rest of the steps are the same.
Free to use – Zelle does not charge a fee of any kind to send or receive money. It is a value-added service provided by the partner banks to their customers.
Faster transfer time – instead of taking days, it only takes minutes to complete the money transfers.
No cash required – you can reduce the reliance on keeping cash around, and transfers take place directly from a smartphone.
Relatively large network – over 100 million U.S. residents have access to Zelle via their bank, so the likelihood of meeting someone who has access is high.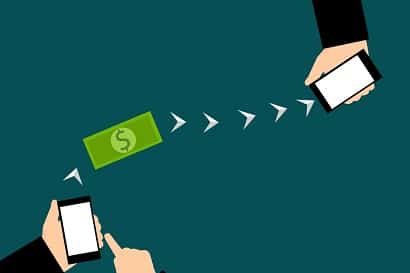 US-Only bank accounts and not all of them – although the Zelle Network includes over 400 banks, there are still some local banks and credit unions that are not yet members.
No credit cards allowed – unlike competition such as Venmo, it does not allow users to transfer money from credit cards.
No canceling a transfer – perhaps one of the significant drawbacks, there is no canceling a transfer once you've submitted it. The transfer process requires mobile numbers, so make sure you've triple-checked the number you're sending money to before confirming the transfer
May need a smartphone – many banks in the network allow Zelle transfers from a desktop, but others may only have Zelle accessible from their smartphone or even only through the Zelle app.
Maximum limits vary – banks have their limits set for sending money with Zelle, and some could be only up to $500 per day.
Final Thoughts: Zelle money transfer
Zelle is a huge step forward in making money transfers for small things between friends. You don't have to keep cash on you; the process is so simple, fast, and secure that, as long as you double-check the phone number or email address for the contact, it's a solid method to move money around. Our Accounting firm accepts it as a method of payment, contact us if you need more information.